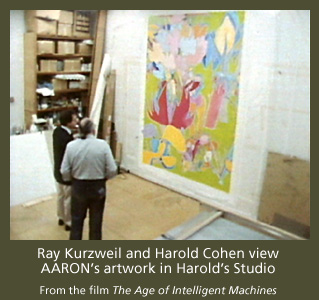 I've been deeply involved in Artificial Intelligence research for nearly forty years, and for most of that time I've watched Harold Cohen create the most sophisticated "cybernetic" art program that I'm aware of. Called "AARON," Harold's AI-based program actually creates original paintings on your computer's screen, each one completely different. If a human created paintings like AARON, we would regard him or her as an acclaimed artist. Indeed hard copies of AARON paintings have hung in museums around the world (London's Tate Modern Galley, Amsterdam's Stedelijk Museum, San Francisco Museum of Modern Art, Brooklyn Museum, and Washington Capital Children's Museum, to name a few).
I've had a copy of AARON running on a large panel display in my lobby for the last two years, and it never fails to elicit enormous interest. It's often hard to get people to leave the lobby to start our meetings. So I've exclusively licensed Harold's remarkable art software, and my software team has created a polished product. You can download a free trial copy or view an AARON painting (rendered stroke by stroke) that I just created.
Your screen saver will then create an endless sequence of original art. Every unique painting that appears on your screen will be different from those that appear on the many copies of AARON running on computers around the world. It's a lot more interesting than screen savers that always look the same. You actually see each line being drawn and each color being applied stroke by stroke. Already an artist with an international reputation when he started working on AARON in the early 1970s, Harold has spent nearly thirty years teaching the AARON software how to draw, his theory of color, and the secrets of composition. It's an outstanding example of artificial intelligence in action.
You can save and print out the artwork, and even send them as creative greetings to your friends. When your friends receive them, they are rendered stroke by stroke just as they were originally created.
So if you like the program as I do, then "send to a friend" to let them know about it as well. After all, I liked it so much that I bought the exclusive license.
Enjoy your original AARON paintings,
Ray Kurzweil